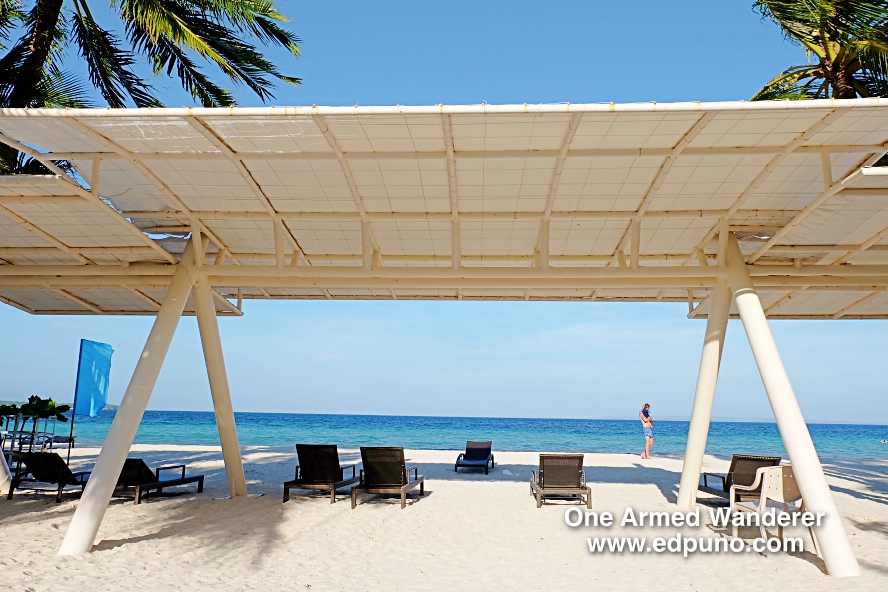 Bantayan Island in Cebu is undoubtedly one of the must visit island in the Philippines. Like Boracay in Aklan and El Nido in Palawan, Bantayan Island is a popular tourist destination among locals and foreign tourists alike.
Where to Eat in Bantayan Island Cebu?
Bantayan Island is tourist ready. Just like Boracay, there is a number of restaurants, bars and café in the island.
Bantayan beach resorts such as Anika Island Resort, Hoyohoy Villas Resort and Beach Placid have their own restaurant. However, food their menu may be limited or more expensive. If you are a food adventurer, there are other food places and restaurants in the island. Below are my top 3 recommended places to satisfy your gastronomic adventures in Bantayan Island:
1. MJ Square
MJ Square is the most popular food place in Bantayan Island. Located in Santa Fe Poblacion, MJ Square is near to various beach resorts in the island. It is a few minute tricycle ride away from Anika Island Resort, Beach Placid Resort and Hoyohoy Villas. MJ Square is just a few minute walk from beach resorts such as Amihan Beach Cabanas, Ritzy's White Beach Resort, Marlins Beach Resort and Yoonek Beach Resort and Kota Beach Resort.
MJ Square Bantayan Island Map
A food complex with various restaurants and cafes, MJ Square is definitely a go to place for food lovers and adventurers. This Bantayan Island food place offers a wide array of food choices.
Here is a short video of MJ Square in Santa Fe, Bantayan Island.

Complete list of restaurants in MJ Square:
Chef Panyang – This restaurant has the biggest area and has widest food options. Chef Panyang serves mostly Filipino dishes. If you are on a budget, Chef Panyang offers 59 Php (approx. $1.14) meal. It's probably the cheapest meal you can have in the island. If you love seafood, they also have seafood all you can at only 299 Php (approx. $5.75).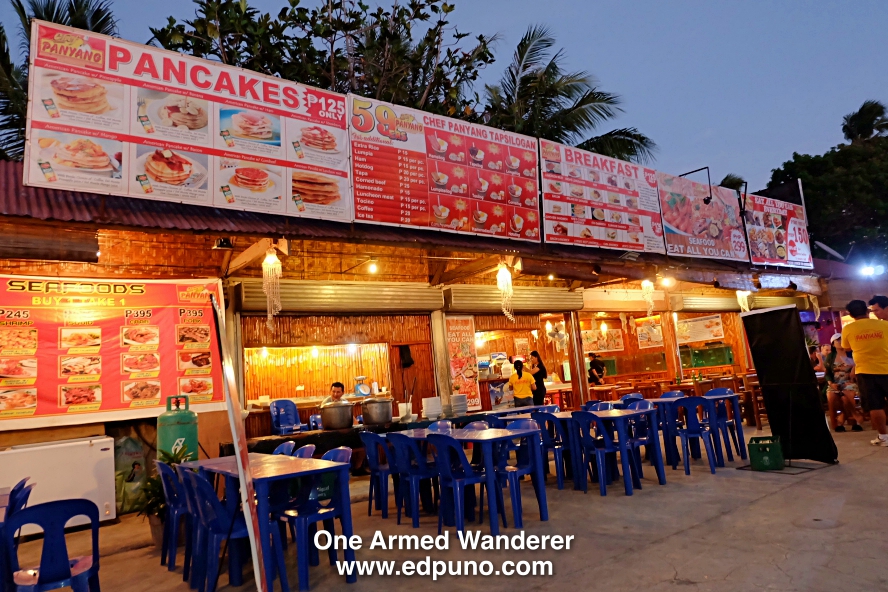 Cupcake Island Cakery – If you love sweets, visit MJ Square's Cupcake Island Cakery. This mini bakeshop offers various cakes that will truly satisfy your cravings.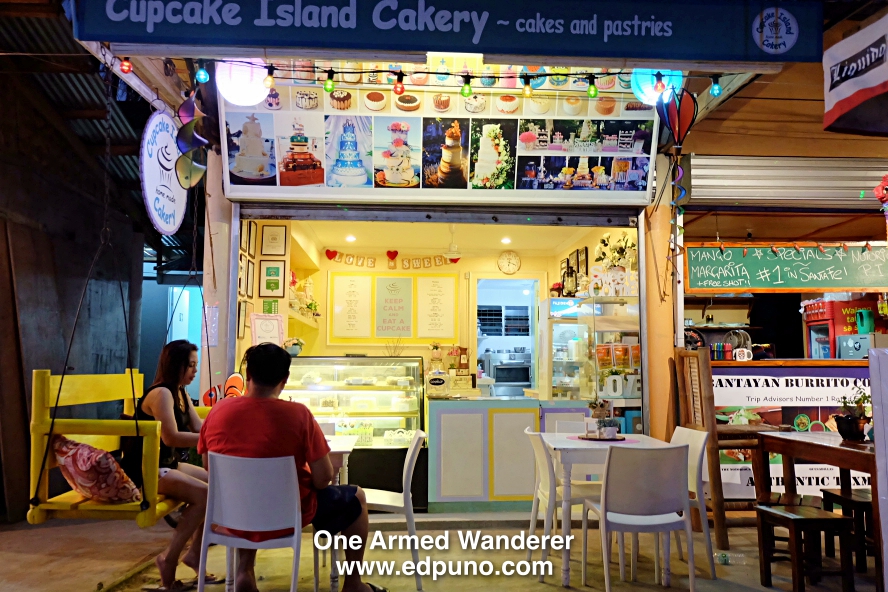 Bantayan Burrito Company – This MJ Square restaurant serves Mexican cuisine and is Vegan friendly.
Shake Me – This small and colorful place in MJ Square is perfect if you are craving for ice cream or shakes in the island.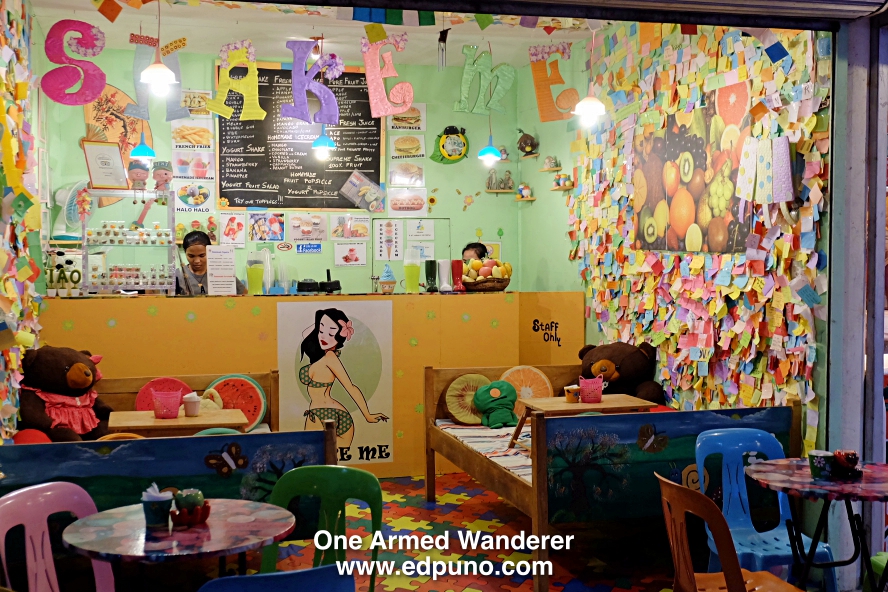 Channa's Café & Wine – This mini cafe is a perfect place to hang-out with your Bantayan travel buddies. Channa's Cafe serves hot & cold coffee and coffee based drinks. They also serve flavored beer. Their drinks are priced from 50 Php (approx $1.00) to 90 Php (approx. $1.80).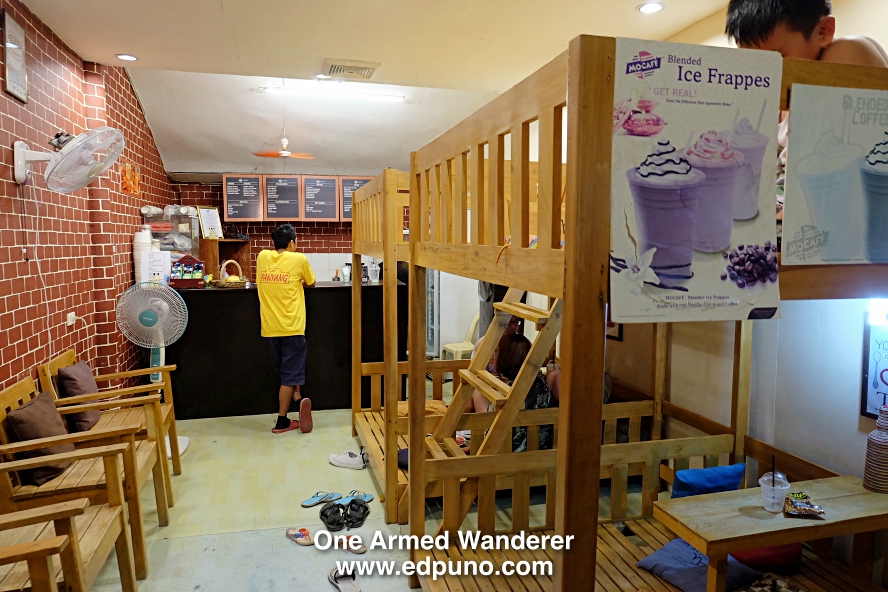 Tapa Master – This Bantayan Island restaurant's speciality is gourmet and exotic Tapas ranging from 89 Php (approx. $1.72) to 269 Php (approx. $5.17). They also offer sisig and various types of sausages.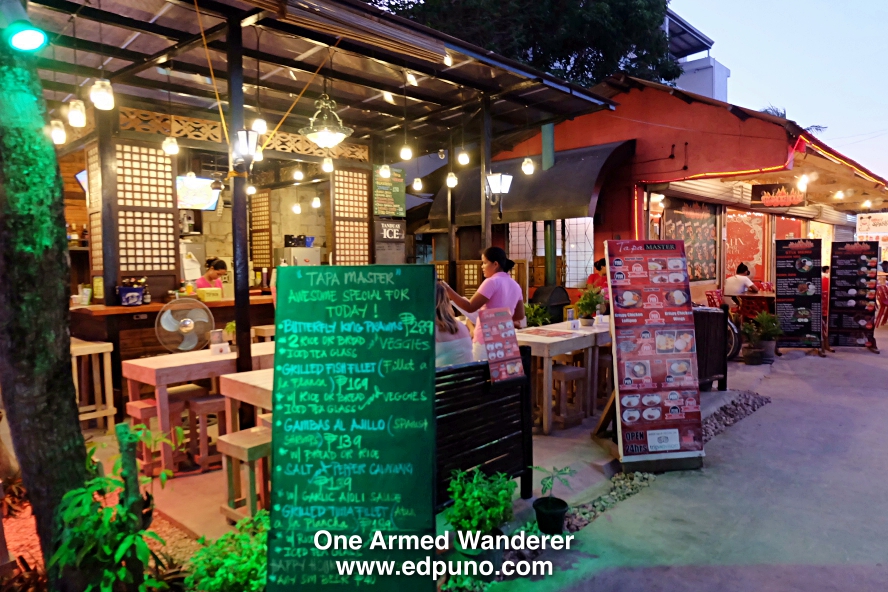 Hallas Taverna
Stix Smoke House
Paradiso Snack Bar
Sarapoi
Liquido – If you love to drink, Liquido serves various alcoholic drinks.
Hello Spank
All Time Fry
During our 4 days and 4 night stay in Bantayan Island, we had most of our meals at MJ Square. I highly recommend Tapa Master as they serve great breakfast!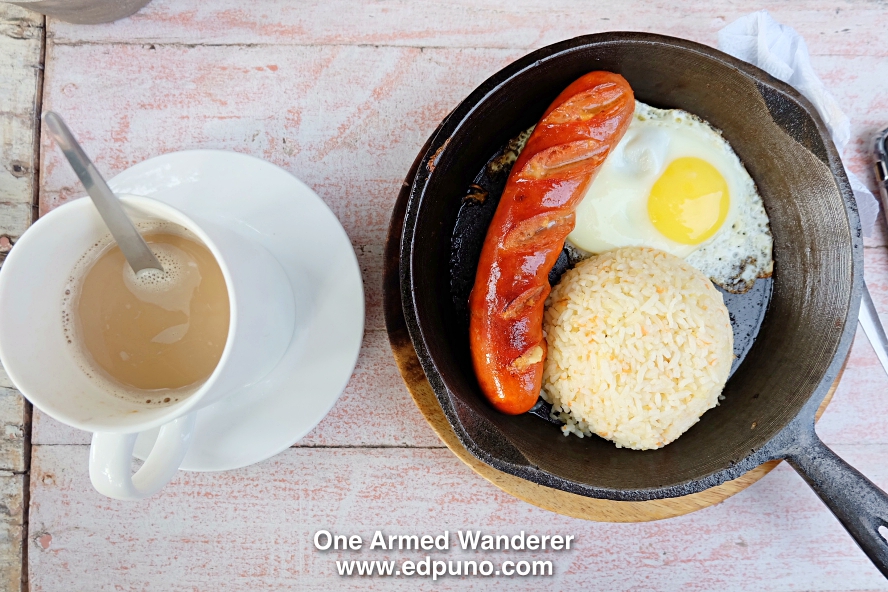 Overall, you will love MJ Square's wide array of food choices.  This is the go to place if you are on a budget. The idea of food complex is good as you get to befriend other tourists in the area. The only downside are the flies in the complex.
2. HR Music Bar & Native Restaurant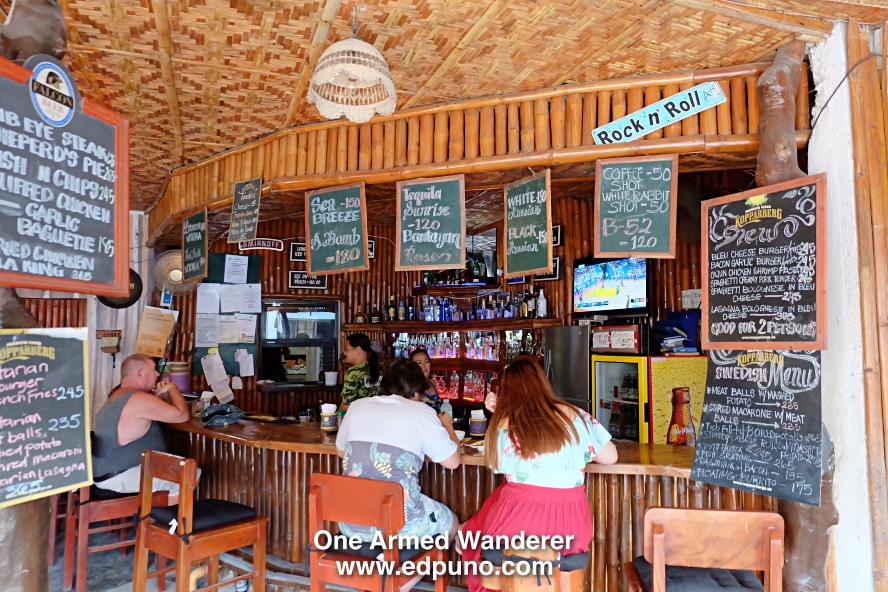 Located in A. Batobalonos St., HR Native Restaurant is just a few meters away from MJ Square. This restaurant has a wide array of offerings on their menu. They serve seafood, pork, beef, vegetables, pizzas, sandwiches, cold drinks and cocktails.
HR Native Restaurant Map

HR Native Restaurant was the very first restaurant we visited in Bantayan island as it was recommended by our tricycle driver. We later did not regret to dine at HR as their baked scallops in Mozarella cheese (225 Php – approx. $4.50) was very delicious! I should say that it's the best tasting baked scallops I've tried so far.
HR Native Restaurant Menu
Overall, HR Native Restaurant is a good food place in the island. The native ambiance makes the dining experience special. Their baked scallops is a must try!
3. Tristan's Pizza Hauz and Restaurant
Tristan's Pizza Hauz & Restaurant is another must visit restaurant in Bantayan Island. Located in F. Roska street and is near to various beach resorts in Santa Fe. Jen and I were very lucky to have met the owner of Tristan's Pizza Hauz. We learned from her that the place used to be a resort and restaurant. After the typhoon Yolanda, she had to give up the resort and only retained its restaurant.
We ordered their best seller mixed seafood pizza for 450 Php (approx. $8.82). It was a surprise that the pizza is generously topped with mozzarella cheese and seafood (especially shrimps). We super loved the pizza! I should say that it's one of the best seafood pizza I had!
Apart from pizzas, this underrated food place in Bantayan Island also serves breakfast meals, salads, pastas, rice meals, snacks and beers.
Overall, Tristan's Pizza Hauz is a must visit for pizza lovers! The place may not be as popular as MJ Square and other restaurants in Bantayan Island, but is definitely one of the islan's best food place!
Comments