Orchids hotel is one among the wide array of hotels (or should I say motels) that are available for short-time stay in Pasig City. Located along Hillcrest drive, this affordable accommodation is just few minutes drive-away from various Pasig City establishments.
Orchids Hotel Pasig Garage Room
Orchids Hotel
room interiors are modern and hip. I personally find the room a bit frayed. I was not just sure if it was just me or just the room itself (By the way, we checked-in at the garage room number 11). The quality of linens, bed and the pillows are the one you usually see in any affordable motels in the metro. Nonetheless, the room is clean.
The wall sized and ceiling mirrors create an illusion that the room is bigger than its actual size. There is a cable TV with a few available channels. The room comes with 2 bottled water and 2 pairs of slippers. The air-conditioning unit works perfectly. There is also a free Wifi with fast internet connection. If you are concerned about your security and privacy, all rooms in Orchids Hotel come with vestibule.
The toilet is spacious and clean but looked old to me. Except for the soap, the rest of the toiletries are for sale. There is a small plastic box nearby the toilet and bath containing the toiletries.
Tootbrush – 15 Php
Tootphase – 10 Php
Shampoo – 10 Php
conditioner – 10 Php
mouthwash – 55 Php
I've been to the garage room of the nearby Rosal Hotel and I must say that compared to Orchids hotel, the former has spacious garage. Nonetheless, any sedan car will fit in the garage (Unless you are bringing a limo with you).
Apart from the clean, private and secured rooms, Orchids Hotel is also popular for the food they serve. I've read several good blog reviews about their Pancit Canton.
Orchids Hotel Garage Room Rates
Short Time (3 hours) – 525 Php and 180 Php extra charge for every hour
Evening Special (from 8:00 PM to 8:00 AM) – 710 Php
Morning Special (check-in from 4:00 AM to 5:00 PM except Saturdays) – 525 Php
24 hours – 1, 950 Php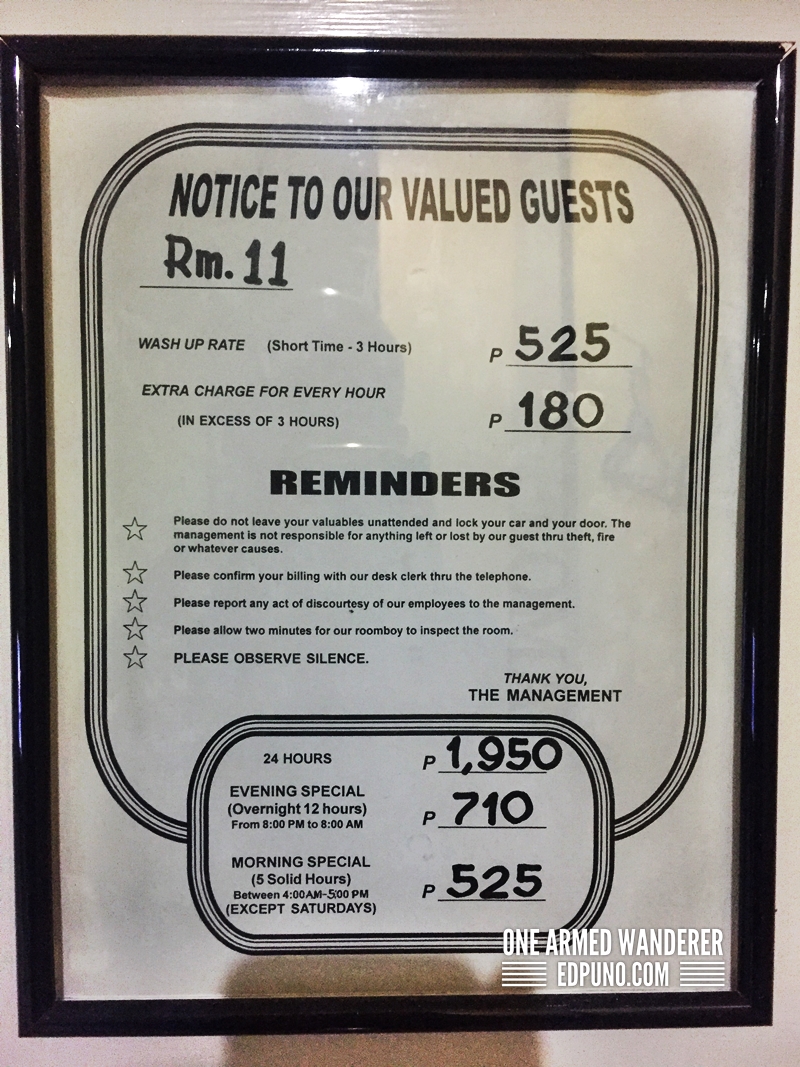 If you will be needing a place to stay overnight in Pasig and you are on a tight budget, I would recommend Orchids Hotel. Unlike in a typical hotel, guests can check-in at Orchids at any given of the day.
Orchids Drive In Hotel contact number: +63 2 6712235
Orchids Drive In Hotel Online booking here.
Alternatively, you may check other Pasig hotels here.
Comments